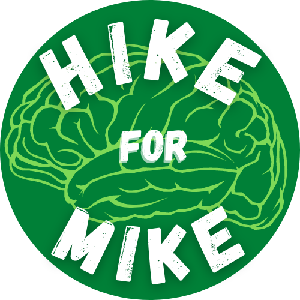 Hike for Mike
Hike for Mike is an in-person and virtual fundraiser where we spread awareness and raise funds for the Center for Head Injuries at JFK Hackensack Meridian Hospital. On September 27, 2021, Michael Falcone suffered a traumatic brain injury after being struck by a car while walking. In addition to his TBI, Mike had other life threatening injuries and a broken right leg. After 4 weeks at Jersey Shore Medical Center, Mike began acute rehab at the Brain Trauma Unit at JFK on October 28, 2021. When he arrived, Mike was unable to talk, swallow, eat, sit up, stand up or walk. He required assistance for all daily activities from his medical team and therapists. Under the direction of Dr. Malone, Mike received physical therapy, occupational therapy and speech therapy. In mid November, Mike began talking with his first question, "What happened to me?" His stay lasted 22 days with daily therapy. There was some improvement but we hoped for more. At that point, the doctors discovered that Mike had fluid on his brain that required a shunt. So he left the BTU for a week for the placement of the shunt. He returned to BTU for an additional 42 days and then entered subacute care at Hartywyck on Oaktree, also a part of the Center for Head Injuries. The 64 days spent at BTU and the time at Hartwyck has proven to be just what Mike needed. He is now talking, eating and drinking, sitting up, standing with assistance and beginning to take steps with his therapists. He has become more aware of his body and his surroundings and often talks about when he goes home.
It is our goal in this fundraiser to participate in an activity that Mike loves, hiking! And to provide the Center for Head Injuries with funds needed to improve research, equipment, or any future need for patients who suffer from brain injuries. March is Brain Injury Awareness Month so let's get together and support the Center for Brain Injuries in their important work. Every dollar raised, no matter the amount, has an impact for the center. Even $25 dollars would make a big difference to support this crucial work.
From our family to yours, we thank you for supporting our team in raising funds for this incredible cause. Together, we can make a bigger, more meaningful impact!
In gratitude, JoAnn, Michele, Anissa, Carm and families
Follow along on Instagram and Facebook @hikeformike2022
View More

Team Honor Roll
Neurosurgeons of New Jersey
$5,000
Vincent M. Immordino, DMD, PA
$1,000
Starkey, Kelly, Kenneally, Cunningham & Turnbach
$1,000
Heather, Tony & Ryan
$1,000
Max for Mike, Max Challenge of Ocean
$650
Hopewell Presbyterian Deacons
$500
DElia Fam, FL syndicate
$250
Tom & Jeanette Burns
$250
Brewers Bridge Veterinary Care
Richard and Christina Coviello
$200
Cvetan & Melissa Ganchev
$100
Pennington Quality Market
Frank, Jackie, Matthew, and Eliza Falcone
$100
Jim & Elaine Verdino
$100
Rafael and Vittorio Della Sala
Gerald and Patricia Hiland
$100
John & Laura Wallace
$100
Mr. Eric J. Kollevoll
$100
Sharon and Sandy Smith
$100
MaryJo and Jim Hedden
$100
Teri and Bill Zwicker
$100
Lorraine & Michael Falcone
$100
Donna Schwartz and Gregg Maisel
David Ray Hostetter, VMD and Jane K. Hostetter
$100
Ralph and Beth Fylstra
$100
Nicole & Michael Falcone
$100
Top Donors
Neurosurgeons of New Jersey
Immordino Family
Anonymous
Vincent M. Immordino, DMD, PA
Starkey, Kelly, Kenneally, Cunningham & Turnbach