Trauma Survivor Day May 19th 2021!!!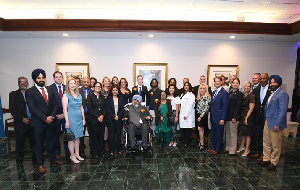 Please join us as we celebrate Trauma Survivors Day on May 19, 2021 from 5pm to 6pm via zoom. This celebration seeks to reconnect you with your healthcare team - the trauma surgeons, advanced practice providers, nurses, and other team members.
We encourage you to take a picture of yourself holding a sign, "I am a trauma survivor and I am thankful ________________________." Please post on social media on May19th and tag @HackensackUniversityMedicalCenter.
Please RSVP by Monday, May 17, 2021 via email to trauma@hmhn.org. A zoom link and the sign for you to print out will be sent to you no later than Tuesday, May 18, 2021.
Dr. Sanjeev Kaul, Chief of Trauma/Surgical Critical Care & Injury Prevention and his colleagues Dr. Steven Blau, Dr. Stephen Cohn, Dr. Setu Dalal, Dr. Saraswati Dayal, Dr. Elizabeth Kiselak, Dr. J. Martin Perez, Dr. Kelly Rippey, Dr. Jyoti Sharma, and Sarah Monchar, the Trauma Operations Manager look forward to seeing you and your caregivers at this event.
We continue to raise funds to support Trauma research and to benefit future trauma survivor events. Please click the "Donate" button and show your support.
We hope you are able to attend this virtual event and we are looking forward to "seeing" you this year and celebrating with you in person soon.
View More
My Personal Web Log
Topics
RSVP
I plan to see everyone on zoom on May 19th!
Sarah
by Trauma Department on Fri, May 07, 2021 @ 11:19 AM

Permanent Link No Comments
Fundraising Honor Roll
North Jersey Brain & Spine
$5,000
Mr. Robert Hawkins
$2,500
Dr. Michael Stifelman
$1,000
Conventus Inter-Insurance Exchange
$1,000
The Valley Hospital
$1,000
svetlana fakhroutdinov
$300
Statewide Conditioning Inc
$250
Dellridge Health and Rehabilitation Center
AvalonBay Communities, Inc.
$100
Mr. Robert Hawkins/Ice House
$100
Dr. William K. Boss , Jr.
$100