Hackensack Meridian Health Fundraiser To Support Our Health Care Heroes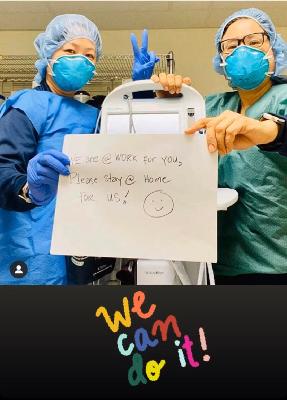 Recent highlights:
A special acknowledgement for Mary Pat and Chris Christie for their support for COVID-19 first responders and continued commitment to the American people!

With great appreciation for the suppoprt from former NJ US Senator Frank Lautenberg's, Lautenberg Foundation
Tweet from @OrrinHatch, Senator Orrin G. Hatch Foundation:
"We are indebted to healthcare workers who have stepped up to combat this virus while most do everything possible to avoid it. #AmericaWorksTogether Please consider supporting critical needs of frontline team members at @HMHNewJersey using this link to Andria Schneiderman fundraiser"

Andria Schneiderman, Hackensack Meridian Health Board of Trustees, invites you to support our frontline healthcare HEROES.
In less than one week since our page went live, donation commitments are approaching ~ $80,000 in support of this work and the frontline care providers. We are so grateful to all who already joined us, thank you! Join us today in support. Donations are 100% tax deductible.
We are fundraising to support our health care heroes. All money raised from our fundraising page will support the COVID-19 Response Fund and support the critical needs of frontline team members at Hackensack Meridian Hackensack University Medical Center.
As our community faces this unprecedented challenge with the COVID-19 pandemic we have to come together and do our part. We are excited to give back to the frontline health care workers who are doing so much every day in selflessly treating patients and providing them with exceptional care no matter what. We hope you will join us.
Any donation, no matter the size, will go a long way and make a positive impact. After you donate, consider sharing with your family and friends. With your help, we can make a difference. Thank you!

View More
Fundraising Honor Roll
Alfano Family Charitable Foundation
The Lautenberg Foundation
The Tony Alvarez Charitable Foundation
Mary Pat and Chris Christie
Alexander Anderson Real Estate Group Weekly Meals
Sandy Kissler in honor of Mort
Mr. and Mrs. Jordan Copland
The Maxfield and Ostfeld Family
Andria and Fred Schneiderman
Shirley Freedman in memory of Mort